Google Device Customer Service
I don't usually complain about getting a refund for a product even if it takes longer than a few days. However if it takes several days or weeks beyond what is promised on their support page, then I get a little frustrated.
Let me start from the beginning. Google announced that a new tablet would be coming out, the Nexus 7. Awesome! This announcement came in late June, the 27th if I'm not mistaken. On the 5th of July I placed my pre-order for the Nexus 7 via the Google Play Store, which I might add costs an additional $13.99 in shipping not charged by pre-ordering from Staples or Gamestop. Which I figured I'd overlook because I would have the tablet in hand prior to those stores receiving shipment.
Mid July roles around (the time Google promised shipments) and they keep pushing the date forward. Not a big deal, but then I hear on July 17th that my local Staples will have Nexus 7's on the shelf the next day. Still no problem, I'll just pick one up at Staples ($13.99 less than the Play Store), refuse my shipment from Google and get a refund within two weeks. So that's what I did. Still no problems, just got to wait for the refund.
The Nexus 7 from Google comes a few days later and I refuse shipment, I check on the tracking number a few days later to see if it has arrived back at Google, it does on July 23rd. Yay! In a few days (max of 2 weeks according to Google) I'll have my refund and will have saved the $13.99 shipping charge the Play Store charges.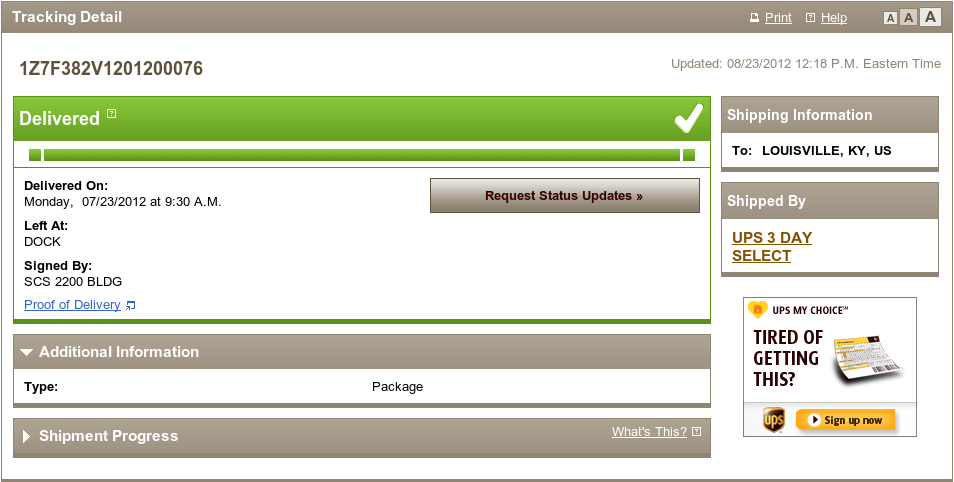 So I wait around two weeks and call Google Device Support I believe it was Aug. 9th which may be a day early to call in but I figured they possibly might get the ball rolling as I haven't received an e-mail or anything regarding my refund. The guy I spoke with on the phone seemed very helpful and the next day I get an e-mail from Google with an RMA number and a prepaid UPS label. I specifically told this person on the phone that I had already returned the package by refusing its delivery. The e-mail I received was:
UPS Returns Label Delivery
This notice tells you that a UPS shipper has sent you an electronic label.
You can print and use this label to include in your outbound shipment, or send it to the consignee. The label will be available for 14 days.
Note: When retrieving your label below, we will provide you with both a UPS Returns Label and Commercial Invoice if the invoice was prepared by the original shipper.
Okay not quite what I was expecting after it had been acknowledged the package was in Google's possession. So I call back the next day just to verify that this e-mail is some standard procedure or something. It isn't and the new person I talk to says I should have if anything gotten an e-mail confirming a refund was on its way. This person also said they would push the issue further so that it would get to the correct person. Lo and behold I get an e-mail saying I got a refund! But wait what is this, a refund only for the shipping. The e-mail I received:
Google Play has refunded $13.99 to your VISA xxx-xxxx. Please note that it may take several days for the refund to appear on your billing statement.
Order number: xxxxxxxxxxxxxxxxxxxx.xxxxxxxxxxxxxxxx
Order date: Jul 5, 2012 8:27 PM PDT
Okay so maybe the shipping refund comes first so I wait a little and don't receive another e-mail with the rest of my refund. But I also decide to reply to the e-mail with this:
Full Story:
Purchased on July 5 Order # xxxx
Sent from Google July 18th Tracking # xxxx
Refused shipment July 19th Return Tracking # xxxx
Arrived at Google July 23rd Return Tracking # xxxx
Still awaiting refund for the entire device not just shipping
I wait till next week and call Google Device Support again, act like they are being helpful again and that I should receive a response soon, I get an e-mail about something not related to my inquiry again:
Hello,
Thank you very much for contacting me today. I'm sorry to hear that you were having trouble watching your movie.
I wasn't able to locate a transaction based on the email address you
provided. Can you reply with the email address of the Google Wallet account you used to rent your movie?
To find your associated Google account, visit Menu > Settings > Accounts & sync on your phone or tablet and let me know the names of the account(s) listed there.
I look forward to your response, so I may investigate this matter further.
Regards,
Elijah
The Google Play Support Team
Trouble watching a movie? What does this have to do with a device refund? So I call back in response to this e-mail and get in contact with a supervisor named Christine (who profusely apologized for the time it has taken so far). She says she is going to give this to someone from corporate that comes in Monday, Aug. 20th and that I should receive some sort of confirmation via e-mail that I am being helped. I call back Wednesday because I have received no response and Christine again says she will make this a high priority.
It is now Aug. 23rd 1 month from the day Google got my device back (23 business days). So next step I refute the charge with my credit card company. I'll update this post with additional information on how this route takes me.
Seriously though should a refund take this long? I understand it is remote and I'm not just walking into a store, but shouldn't the concept be the same? I walk into Wal-Mart with a product I purchased yesterday, I haven't opened it, I have my receipt, I get my money back. It's that simple! Come on Google! That's the last pre-order I do through Google and most likely the last time I use the Google Play Device Store.
As for all of Google's other services, I don't really have many complaints and I enjoy them. These services include their digital services such as Search, Gmail, Docs, Calendar, ... you get the idea.
UPDATE:
My credit card company comes through instantly! They refund the money, albeit temporarily, unless Google decides to accept the decision from the credit card company to make the refund. Which I highly doubt they will fight back considering the ordeal I've been through and the extreme case I have against them. But if there are any other issues, I will post additional updates.